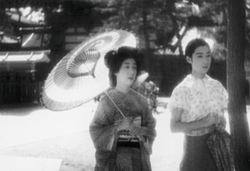 Yoko Uemura (left) and Isuza Yamada in
Sisters of Gion
.

Another week, another hard-to-find Japanese movie at the Cinematheque Ontario,
Sisters of Gion
from 1936. (My thanks to
Alex
for pointing this out on the schedule.) If the Siren has a favorite Japanese movie director, it is probably Kenji Mizoguchi. His movies are gorgeous, emotional and a useful counterexample for anyone who maintains men are incapable of understanding women. This film makes brilliant use of the narrow walkways and crazy-quilt construction of the Gion quarter of prewar Kyoto, evoking a beautiful but cramped and complicated world.
Sisters
tells the story of two geisha. The older sister (Yoko Umemura) clings to tradition and selflessly devotes herself to a bankrupt former patron. The younger (Isuza Yamada, in a flawless performance) views men as vile, declares that she owes them nothing and will use any means available to secure a comfortable life for herself. For much of the brief movie you enjoy watching this latter-day Becky Sharp connive on nothing a year. But Mizoguchi is a social critic, not a satirist like Thackeray. In the end, it becomes heartbreakingly clear why the younger geisha is named Omocha, which translates as "toy."